ROBERTO COIN
AVAILABLE AT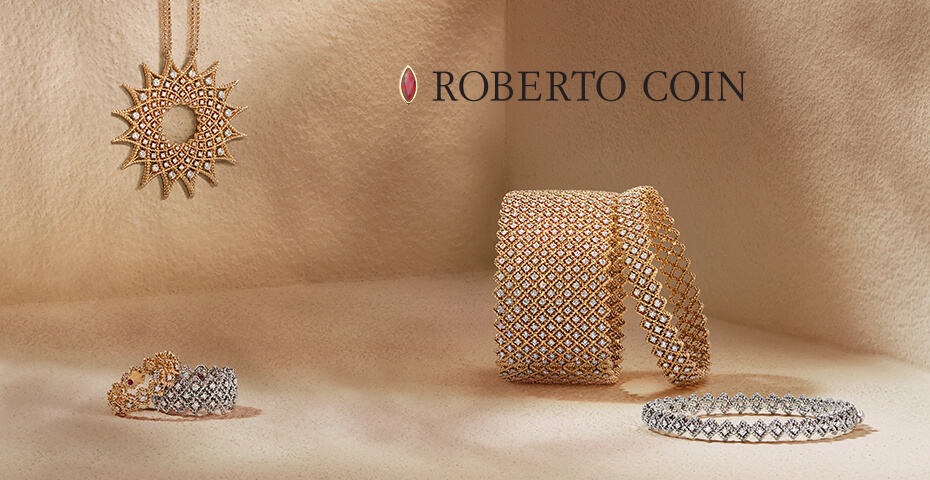 We are an authorized Roberto Coin retailer. For more information regarding Roberto Coin, please call us.
Call us at (954)389-7990.
About Roberto Coin
Weston Jewelers is delighted to introduce the exquisite world of Roberto Coin jewelry to our discerning clientele. This brand was founded in Vicenza, Italy, in 1996, by the visionary designer Roberto Coin himself. Inspired by his love for art and fashion, Coin embarked on a journey to create jewelry that not only dazzles but also tells a story. Each piece of Roberto Coin jewelry is adorned with a hidden ruby, a secret kiss to the skin meant to grant good fortune to the wearer. Explore the refinement and artistry of Roberto Coin's creations at Weston Jewelers.
Popular Roberto Coin Jewelry Collections
Seamlessly blending multi-ethnic influences with a commitment to ethical sourcing, Roberto Coin necklaces and bracelets are a testament to true artistry that appeals to every modern jewelry enthusiast. Their necklaces often feature complex designs, ranging from timeless classics like light chains and pendants to more elaborate pieces that draw inspiration from cultures around the world. These designs showcase a harmonious fusion of artistry and innovation, speaking to a wide range of tastes. Similarly, Roberto Coin's bracelets offer a diverse offering of pieces, from sleek bangles to statement cuffs, decorated with diamonds and gemstones that fascinate with their brilliance.
Earrings from Roberto Coin often feature a wide array of styles, including traditional studs, hoops, and drop earrings. One of the signature motifs that has garnered tremendous popularity is the Princess Flower design, a delicate and detailed pattern inspired by the beauty of nature. This motif can be found illustrating a range of earrings. Roberto Coin's rings, on the other hand, offer an eclectic selection of designs, from definitive solitaires to impressive cocktail rings embellished with vibrant gemstones. These rings not only stand the test of time but also signify the wearer's unique style and personality.
Discover Roberto Coin at Weston Jewelers
When shopping for Roberto Coin jewelry in South Florida, look no further than Weston Jewelers, your trusted destination in the Fort Lauderdale area. As the premier Weston and Hollywood jewelry stores, we take huge pride in curating a phenomenal collection of Roberto Coin's masterpieces. Beyond our illustrious selection, our experienced team offers custom design to bring your creative visions to life. Additionally, our jewelry repair services ensure that your treasures are kept constantly pristine. We invite you to visit Weston Jewelers, where our commitment to quality, craftsmanship, and customer satisfaction shines through in every piece.