Stay Stylish With These Stackable Ring Tips
January 15th, 2022
If you are the kind of person who pays attention to fashion, then you have likely noticed that the stackable trend is gaining popularity. However, you might not have realized this trend extends to stacking their fashion rings. A great way for your fingers to glitter, stackable rings work for all occasions from work presentations to after hours cocktails and Valentine's Day dates out on the town. This look is sure to make you smile every time you glance down at your digits. Check out Weston Jewelers' top stacking ring tips and then try this accessory look for yourself.
Mixing Metals
Once upon a time women were told to stick to one metal with their jewelry. Fortunately, today's fashion trends are a lot more fun, and plenty of stylish people now happily don gold and silver in the same look. At Weston Jewelers, we encourage you to carry the mixed metal trend into your fashion rings. This Marco Bicego piece features yellow and white gold along with glittery diamond accents.
Little Details
Sometimes the occasion calls for a bold jewelry look. Other times, it makes sense to wear styles that are a little more subtle. If you appreciate more understated jewelry options, then this Marco Bicego Masai ring is sure to be a winner. Slender and sweet, this modern look features trending yellow gold and diamonds. Wear it on its own to work or stack it with some of your other favorite rings for a night of fun.
Alternating Fingers
Stackable rings are at once fun and fresh. However, it is possible to go too big with this trend. To keep your look stylish rather than tacky, avoid wearing rings on all five fingers. We recommend alternating fingers or leaving one or two digits unadorned. Not only will your stacked rings look more balanced, but you will also give the most stunning pieces an opportunity to shine bright.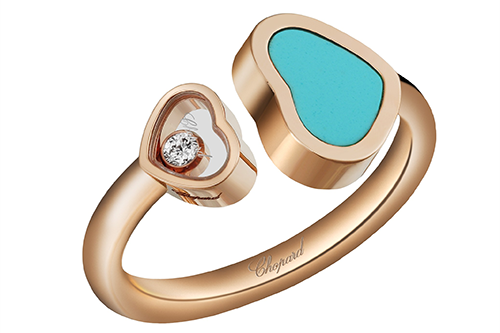 Going Bright
Speaking of color, the stackable ring trend is a great opportunity to play with bright hues. While many fashion ring fans prefer to stick with classics like gold and silver, there is nothing wrong with taking your look to a more dramatic place with a rainbow array of gemstones. Choose a piece that incorporates multiple colors or select a few rings featuring different stones and shades. We do not think you can go wrong with this Chopard piece featuring diamond and turquoise agate in a sleek rose gold setting.
Buy Stackable Rings at Weston Jewelers
With locations in Weston and Hollywood, Florida, we at Weston Jewelers have been serving discerning customers for two decades. We carry fantastic stackable rings, bridal pieces, dazzling timepieces, and other items of luxury that will make a statement in any company. Ready to up your jewelry game for 2022? Stop by one of our locations or browse our selection on the website. We look forward to helping you find something extraordinary.