How to Give the Perfect Jewelry to Bridesmaids
September 20th, 2022
Weddings are widely known to celebrate a couple's future, but weddings also celebrate connections, friendships and relationships. They are the joining of two families, be it beloved friends or relatives. That's why the bride and groom are supported by bridesmaids and groomsmen. They are there to assist with whatever needs to be done, from operating the karaoke machine to giving a tear-jerking speech. Show the bridesmaids you care with these jewelry-giving tips.
Cannot Tie the Knot Without You
Your bridesmaids are part of the core of your support group to help you get through life along with your wedding. Make it known to those you choose that pick to stand next to you, that you simply cannot do it without them.
People put their hearts into their wedding, and a common image to show your bridal group their importance is a knot symbol. This mixed metal and diamond fashion ring by Alor is a delight. With a tiny diamond detail with the tied together design, this ring will be perfect for your bridesmaids.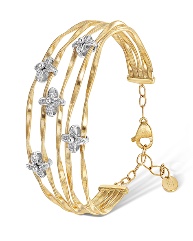 Expressive Motifs
Motifs are exceptional for expressing personality and interests. People often project their individuality through their outfits. Giving them the ability to incorporate their favorite things in glitter and glamor makes for an exquisite present. Not only is it good for their wardrobe, but it also reflects your thoughtfulness.
Does your maid of honor like to garden? Get them this 18k yellow and white gold floral bracelet. Like a luxurious trellis, it exhibits a plethora of tiny white gold florals presenting glorious, brilliant diamonds.
Radiant Birthstones
An easy and effective way to personalize gifts is to give gemstone jewelry in accordance with their birth month. Also called birthstones, this practice was invented thousands of years ago but became standard in the early 20th century. While one needs no excuse to wear enchanting gemstone jewelry, birthstones also offer an expressive opportunity to don these glamorous pieces.
For someone born in October, this opal and diamond necklace is sublime. Its bold blue opal is surrounded by a brilliant layer of diamonds, showcasing the gemstone's asymmetry. Coupled with Meira T's reputation for quality, it makes for a truly unforgettable gift.
Save the Date
Whatever jewelry you give them, try and get it engraved. Our expert goldsmiths can inscribe many pieces with a personalized message. It can be an intimate message, inside joke, date, or inspirational quote. Whatever you choose to inscribe, make sure it reminds them of you and your special day.
Engraving is performed by either hand or laser. The former requires skill and precision, but it retains unique artistry. Meanwhile, the latter will almost always be perfect and pristine.
Give Your Bridesmaids Jewelry from Weston Jewelers
Weston Jewelers is Florida couples' favorite jeweler. Our selection of bridal jewelry reveals our dedication to romance, while our vast offering of fashion pieces by designer brands shows our commitment to style. Our Weston and Hollywood jewelry stores are full of some of the world's most beloved jewelry. Want to give your bridesmaids something special? Design your own jewelry to truly impress them. If you have questions, send them to Info@WestonJewelers.com to learn the answer.